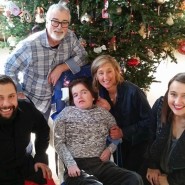 A New Way to Celebrate
February, 2017
A new evening of celebration and fun will be at your place
Events over this past year have reminded Brad and me of the importance of family and never taking for granted or missing the opportunity to hold them close.  Taking the time for holding hands and happiness is something Kirby would insist upon daily while singing "We're a happy family, with a great big hug and a kiss from me to you, won't you say you love me too!"  Little did we know how close to our hearts we would hold these now precious moments in our lives.
With this in mind, we have decided not to plan an event for this February.  Instead, Brad and I will pick a night in February to have some family fun, to think of you and celebrate the love and support you have shared with us, all while holding Kirby tight.   We ask that you, too, gather your family and enjoy whatever makes you happy together.  Celebrate your family. Just don't forget the hugs and kisses for Kirby.
Be sure to let us know what fun you had with your family.  We'd love to see your pictures and share your happy stories.
The work of the Foundation continues
The work of the Foundation continues, as we have issued more than $262,000 in funding toward the launch of Sanfilippo type B clinical trials beginning soon. Our help will be needed again. At this important turning point, we hope that you will consider the Foundation in your year-end charitable donations.
Make a Donation